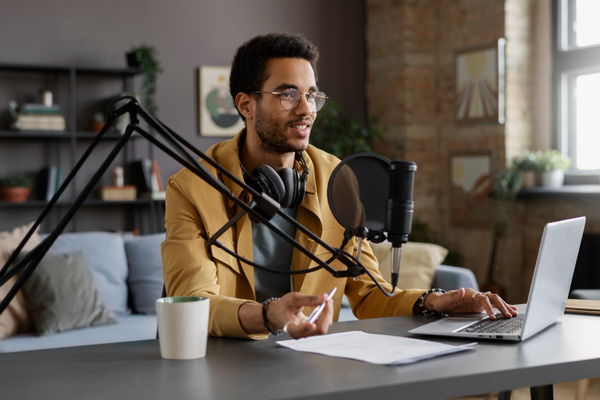 John Peyton on Empowering the Next Generation of Real Estate Agents
Subscribe: More
Join QuantumDigital's CMO Eric Cosway as he interviews John Peyton, president and CEO of Realogy Franchise Group, a global franchisor of some of the most recognized brands in the real estate industry. As CEO, John manages RFG's portfolio of brands including Better Homes and Gardens® Real Estate, CENTURY 21®, Coldwell Banker®, Coldwell Banker Commercial®, ERA and Sotheby's International Realty®. Combined, these brands comprise approximately 14,500 franchise offices and more than 286,500 brokers and independent sales associates in 114 countries and territories worldwide.
Eric: John, thanks for joining us today.
John: Thanks for having me, Eric. I appreciate it.
Eric: Can you share a brief overview of your background, and your current role as CEO of the Realogy Franchise Group.
John: I spent ten years in consulting after college, doing bankruptcy and turnaround consulting, then regular management consulting in a group called Change Integration at Pricewaterhouse, where I helped companies with large-scale transformations and organization design, and some strategy work. After ten years at PricewaterhouseCoopers, I went to Starwood Hotels and Resorts—you may know it, W Hotels, Sheraton, Westin, St. Regis, 11 global brands around the world. I was there for 18 years. I bounced back and forth between operating jobs and marketing & brand jobs. I ran the loyalty program at one point, I was the COO of the North America Hotel Division and, in my last two roles, I was leading global operations, and finished up as CMO. Then, about two years ago, Starwood began a process of selling itself, ultimately purchased by Marriott. And that was my cue to leave, because the job Marriott offered me was in D.C., and I've got kids at home, and moving to D.C. was not in the plan.
Eric: So, you've gone between ops and marketing. Is there a favorite? I know that you've got quite a bit of experience in Six Sigma. Do you have a favorite amongst all those disciplines you've worked around, or in?
John: It depends what job I'm interviewing for. So, if I was interviewing for an ops job, I was an operating guy who happens to know marketing. But, if I was interviewing for a marketing job, I'm a marketing guy who happens to know operations. I think that I prefer being a business unit general manager, the operating role, because it's holistic and inclusive, right? Because it includes marketing and sales, but it also includes developing whatever your product and service is. It includes all of the customer interactions, financial responsibility and accountability for the performance of the business. So I am—at Realogy for example, as president of the Franchise Group—really enjoying having the whole thing. But, I will say my favorite job ever was when I was at Starwood, and I ran Partner Marketing, which was doing all of the fun stuff—music partnerships for the brands, and cool experiential partnerships, and negotiating with American Express to put together the greatest hotel credit card ever. So that was just fun, because you got to meet famous people and put together really fun programs. But, I think in terms of true satisfaction, I'm an operator at heart. And you mentioned Six Sigma—I'm trained as a Master Black Belt, that's sort of how I started my consulting career, and moved to Starwood doing process improvement. So, I am a bit of a Six Sigma geek at heart, and still use the tools today.
Eric: Well, when I read that about you, I figured that was from your Pricewaterhouse background. Would that be correct?
John: Yeah. Pricewaterhouse didn't use Six Sigma specifically. Pw had its own… back then, it was called "process reengineering" methodology. The tools within it are 75 percent of the same tools that are in Six Sigma. They're just organized in a different acronym. Six Sigma was DMAIC "Define, Measure, Analyze, Improve, Control" so it was really just relearning some of the Six Sigma tools when I got to Starwood. Also, Six Sigma is much more statistically-based and mathematically-based than other methodologies, so that was sort of adding in the math part.
Eric: You are an ops guy. Wow. I tell you, that's too much detail for me. I remember the world of process reengineering, but going back into Six Sigma, that brings up nightmares.
John: It does for many people.
Eric: So, from your perspective, you worked out of a lot of large organizations. What are some of the roadblocks senior leadership faces when it comes to enabling innovation?
John: The answer to that question is a lot of clichés—people being stuck in their path that they've been on forever, companies that don't have clear and aligned goals about what they're trying to achieve, companies that are risk averse and not willing to let an idea or a team fail, companies that are afraid to take big bets. To me, it looks like the big, established companies that are innovative—not just startups, but big companies like a Realogy or a Starwood—it's having really clear focus on goals and objectives, having alignment across the leadership team, having the willingness to take risks. I think Facebook has all those great posters about "fail hard, fail fast" all over their campus. And really having funding and resources devoted to innovation. I think it's hard when you ask people with full-time day jobs to come up with great, new ideas. I think companies that organize a little bit and give resources specifically to brainstorming, or an innovation team, have a little bit more success as well.
Eric: I imagine there's a lot of overlap in terms of technology, and programs, and customer service perspective. Can you give us a bit of perspective on that transition?
John: The transition was smoother than I thought it would be. I was at Starwood for 18 years, so like many people, I had convinced myself that the only reason I'm successful at Starwood is because I know who to call after 18 years, and could I possibly be successful anywhere else? And I think what I didn't realize immediately, but I think Realogy did in its recruiting of me, was I'm a franchisor from a multi-brand company. And that's what Starwood is—it was a multi-brand franchise company. And that's what Realogy is. At its core, running a multi-brand company and franchising has many of the same issues and structures, and I had to specifically learn the context of real estate. But the business model that we are here at Realogy, and the franchise group, is very similar to Starwood. For example, comes down to one principle, which is, "Does the franchisee feel like he or she is getting value for the fee that they pay?" That's true in hotels, and it's true if you're franchising muffler shops, and it's true if you're franchising residential real estate brands. So, as long as I can stand up in front of a group and say, "I think you're getting value for the fee you pay, and here's why. And if you're not, let me know." That's sort of the basics of that kind of business.
Eric: Is there something that surprised you, as you've come in and picked up all the real estate knowledge?
John: There were a couple of things I didn't anticipate, which I'm finding really interesting. One is, at Starwood for example, our partners—the company that owned hotels that we managed for them—were typically other large, billion dollar public companies or RICs (regulated investment companies). And so, it was very much a corporate-to-corporate kind of conversation. What I'm loving about this industry, but I didn't anticipate, is that this is family-owned, multi-generational, very local, very entrepreneurial companies. And every dollar matters, every employee and every agent matters. And—where in my old job, we could be talking to one of our owners and then talking about how we made a $200,000 mistake, and the conversation will be, "Let's see if we can fix that next quarter,"—can you imagine saying, "We made a $200,000 mistake," to one of our affiliates in this business? So, I love that this is a very different perspective on business in America that I hadn't seen. As someone who spent his career in large companies, it's really fun and inspiring to me to see all of these family, entrepreneurial, multi-generational businesses. And I have to learn to think differently as a result.
Eric: You're—as we talked about at the top of the podcast, Better Homes & Gardens Real Estate, Century 21, Coldwell Banker, ERA, Sotheby's… there's a really broad mix. Are the issues the same? Are they fundamentally the same when it comes down to the nuts and bolts of the franchisee from the different organizations? Or are they just a broad portfolio of issues?
John: I think generally the issues are the same. For example, as a franchisor, we have to make sure that we deliver and design training products, operating procedures, marketing conferences, that are inspiring and motivating to the franchisees, and to their agents. We have to stay on top of technology and trends and disruption in the competition. Particularly because, as a large public company, I think we have a broader lens than a lot of our smaller, local companies do, and I think they look to us to make sure that we are on top of what's happening in the future. I think that, like many businesses, there's a big question around how do we sell homes to millennials, how do we attract millennials to be future real estate agents. That was true in the hotel business, as well. So, I think we're dealing with many of the same issues. It's a little bit like a Mad Lib, right? Just fill in different names and numbers. But the themes are similar.
Eric: Let's talk about the millennials for a sec. What do you sense are the major opportunities in real estate, working with this new generation of agents, customers, employees, buyers and sellers?
John: I think when it comes to millennials, what I'm learning in real estate, and generally we're learning overall, is that first of all, you can't classify a cohort of tens of millions of people with any single broad brushstroke. And I don't think millennials even like being called millennials, for that reason. And I think that, while they are technologically much more savvy and native than people of my generation—and we sort of assumed maybe as parents that all they want to do is work on their phone—what we're seeing, and what the research says, is that the human connection, and the power and representation of a brand, and the advice they want from somebody who's expert, is as important to them as being technologically enabled. We've done a lot of research, for example, that shows that the cohort out there—between gen X, gen Y, boomers, millennials—that uses a real estate agent the most is millennials. It's almost counterintuitive to what people would have guessed, but I think millennials want to have all the information available to them, but they also want to have someone to talk to and advise them. So, I think the biggest learning I have about that population is not to generalize and not to assume.
Eric: You know, I read something you had mentioned about this new generation of employees coming in, the best thing is get them leads as quickly as possible to get their career rocking and rolling. That was a real "a-ha" moment when I read that, because I was trying to understand what would bring somebody into the industry today. These young folks coming to the industry—they have debts to pay off, and loans to pay off—and your comment just hit me as "Ah! That's how it's done. Get them active as quickly as possible."
John: That's right. Because, for decades, real estate agent has often been a second or third career for people. So, to attract somebody out of college, when they're 22 or 23 to start as a real estate agent… as we all know, a big part of being successful is having a sphere of influence for your network, because 50 percent, 60 percent, 70 percent of an agent's business comes from their sphere. If you're 22 or 23, you don't have a sphere, and it's hard to come into a business that's entirely a commission-based business. Because there's, for the most part, no salary offered. So, I think that what we can do as a brand, and what local companies can do to generate meaningful, convertible leads to agents—and in this case, new agents—allows them to enter the business at a younger age. Because we do have to invest in building the next generation of real estate agents. Because NAR publishes that the average age of an agent is about 55, so we need to think about how we can attract people in their 20s and early 30s, but provide them an income from the beginning. Because most people can't work for no income for the first two years while they're building their sphere.
Eric: Let's take it back. You worked for the student newspaper at the University of Pennsylvania I believe.
John: I did. I was the art director. I used to do a lot of fine art and graphic design in high school and college. And my outlet for that creativity was as the art director of the daily paper. Yes.
Eric: If you think back about that experience, are there any guiding tenets that still ring true today, over your career?
John: I learned an interesting lesson back then, when I was 20 years old, that has stuck with me. It's about inclusion. I was the art director of the paper—doing the daily layout and all of the graphics, and photos, and illustrations—and one of the things I was responsible for was working with a group of artists who illustrated the lead editorial on the op ed page each day. I think I was the art director as a junior. At the end of my first semester as art director, I looked back at all of the illustrations we had done. And whenever one of the artists illustrated a person, you know as part of the picture that they drew, we always used a white male. Unless the article, the opinion piece, was on a specific gender or diverse issue. Other than that, we always illustrated with a while male. And our artists were female and diverse as well. So, even the women artists were showing white males as their default. So, I learned a lot about the way we have our biases built into us in a subconscious way, that as a 20-year-old artist, we didn't even realize we had. So, that stuck with me for years and years.
Eric: That's a pretty eclectic background, going from design, obviously into management, into ops… the senior leadership roles.
John: Well, that's when my father inserted himself into my career.
Eric: Ah, the old pressure. And you also did your MBA from NYU I believe, as well. I know you're actively involved in several organizations supporting health and welfare of children. Can you speak a little bit about Child Advocates of Southern Connecticut, and something called Full Court Peace?
John: Full Court Peace is interesting. It's a local organization that was founded by the head coach of one of the local high schools. He grew up in our home town, and graduated from our high school, and he's one of the few kids who actually learned to speak fluent Spanish in high school. He traveled to Cuba after high school, and he fell in love with Cuba. And ever since, he's been running an organization called Full Court Peace. The goal of it is to unite diverse, or competing, or at odds communities through basketball. My son has been involved for 5 years, and they do things like restore basketball courts in less privileged neighborhoods in Connecticut. Every summer, they go to Cuba for a week. They live with local families in a small fishing town called Cojímar outside of Havana. They repair basketball courts during the day, then they play basketball with the Cuban kids at night. So, they do some really cool things in terms of helping. They went to Belfast for a week last year, and ran leagues with Catholic and Protestant students to bring them together. It's very much about bringing people together through basketball, and it's a great way for kids to be involved.
Eric: Well, I was going to say your son is learning some great lessons at his age.
John: He is. And what's been really interesting is the first time he went to Cuba, he was going into 8th grade. Last summer he was going into 12th grade. So over the last 4 or 5 years, he actually sees the same kids in Cojímar every year, and now they know each other, and they have built up relationships over the last 5 years. And he's seen the way Cuba has opened up. When we first went, there was no Internet, there was no Facebook, and now all of that is available in just a couple of years.
Eric: I know that family is important to you, from what I've read you really value family/work/life balance. What does that mean to you?
John: Well, I guess people always say "How do you know you're getting it right?" And my short answer is, if I feel like I'm falling short at both home and work, then I must be getting it right. And if I ever… when I feel like everything is perfect at home, then I'm probably way off at work. And if everything is going really smoothly at work, then I'm probably failing at home. I strive for a little bit of tension on both sides. And I really do believe that, in 2018, you can do your work from wherever you are. So, I—like many people in the office, if I need to be at home in the morning for a school meeting, or I need to leave early for a lacrosse game—we work 24/7 these days, with our phones and our email. So I think we have to do what we can to just get our jobs done, and our jobs are no longer 9 to 5. We fit them in and around our lives, and I think that's an important thing to do.
Eric: John, what a pleasure getting to know you today. This has been fantastic. I want to thank you for being part of our podcast, and all the best in the rest of 2018.
John: Thank you, Eric. Thanks so much. I appreciate it.